Song Mingqiong 宋鳴瓊: "On Dream of the Red Chamber" 题红楼梦
Song Mingqiong 宋鳴瓊 was born in 1750 and died in 1820. Her courtest name is Wanxian 婉仙.
"On Dream of the Red Chamber"

Startled from a good dream to return to reality, a bad dream run its course.
There is in this all the great [world of] feeling.
The high wind has no regard for the foolish passions of boys and girls,
And blows them to the edge of illusory flowers and the moon in the water.

She is ill: How can we begrudge her pearl-like tears?
Day after day, she knits her brows, expressing her feelings in sighs.
Her ancient fragrant soul is extinguished with the kalpa
No one looks for a hoe to bury the flowers.

I want to tell, yet keep back, regrets and pity.
With him, who follows your person and chases your shadow, there are yet no karmic ties.
From the beginning of time a single tree cannot become one with entwined trunks.
Since when has sweet dew [from the bodhisattva's willow branch] brought the bliss [denied to those with deep feeling]?

To the illusory realm, emptied of emptiness, is entrusted the illusory body.
Bewildered, wavering, he knows not how to cross the Ford of Delusion.
Cutting through it all, there is only the mandarin duck sword.
For those thousands of [entangled] threads of longing–a quest for one who understands.
题红楼梦

好夢驚回惡夢圓,個中包括大情天,
罡風不顧癡兒女,吹向空花水月邊。

病軀那惜淚如珠,鎭日顰眉付感吁,
千載春魂隨劫去,更無人覓葬花鋤。

欲吐還茹恨與憐,隨形逐影總非緣,
自來獨木無連理,甘露何曾灑大千。

幻境空空讬幻身,傍徨無計度迷津,
斷除衹有鴛鴦劍,萬縷千絲索解人。
Notes on the poems:
First of all, this is a sequence of four inter-related poems, rather than one poem with a consistent narrative line.
Second poem: The phrase in the third line translated as "fragrant soul" is chun hun 春魂, which literally means spring soul. While fragrance is one of the attributes of spring, so is youth. The phrase translated "her ancient fragrant soul" (qian sui chun hun 千嵗春魂) thus could be read to mean that her soul is both ancient and young.
The next line, "No one looks for a hoe to bury the flowers" refers to the scene in the novel (and in the opera) where Daiyu buries flowers.
Third poem: The word translated "tell" in the opening to the third poem line is tu 吐, which literally means to spit out, and the word translated as "hold back" is 茹, which literally means to eat or to swallow. Thus there is a visceral quality to the original that is hard to convey in the English. The person who follows her person and chases her shadow is Baoyu.
In the next line, the entwined trunks refer to conjugal happiness.
In the final poem, the reference to the mandarin duck sword operates at several levels: the pages of the novel which tell the story are reproduced below. Liu Xianglian 柳湘蓮 has given the sword as a pledge that he will marry You Sanjie 尤三姐; when he reneges on the pledge to marry her because he doubts her virtue, she uses the sword to kill herself. In his mind, this act confirms her virtue. An excerpt from the novel containing the story is in the text box below.
The final two lines of the poem connect the story of Sanjie 三姐 to the main story of Baoyu 寶玉 and Daiyu 黛玉 and reinforce the message about the nature of illusion and the problem in an illusory world of finding one who truly knows one.
Translation of the poem is slightly modified from Widmer, Beauty and the Book, 140-41.
Text from Chapter 66: You Sanjie and the Duck and Drake Swords (David Hawkes translation)
In chapter 66 of the novel, Jia Lian and Jia Zhen are anxious to find a husband for You Sanjie, the sister of You Erjie, whom Jia Lian has secretly married. Sanjie is extraordinarily beautiful and extraordinarily strong-willed. She announces that there is only one man she will marry–Liu Xianglian. Jia Lian and Jia Zheng arrange the match, and Xianglian gives them a pair of Duck and Drake swords, a family heirloom, as his pledge that he will marry Sanjie.
When the greetings and routine questionings were over, he told the sisters about his encounter with Liu Xianglian and getting the Duck and Drake swords out of his luggage, he handed them to Sanjie to take care of. Sanjie first examined the scabbard, It was embossed with a design of interlacing dragons and sea monsters and encrusted all over with jewels. Then she took out the swords, identical except that one had the character "Duck" and the other "Drake" engraved on its blade. And what blades! Cold, cruel, glittering with the cold brightness of autumn waters. Sanjie was enraptured by them. She put them both back into their scabbard and carried them off to her own room where she hung them up over her bed. Thereafter she would look up at them from time to time and smile, happy in the knowledge that her future was assured.
But it was not to be. Liu Xianglian heard things that made him want to renege on his commitment to marry Sanjie. He says:
"The only clean things about that Ningguo House are the stone lions that stand outside the gate. The very cats and dogs are corrupted."
When he decides he cannot go through with the marriage and hence must ask for the pledge back, Jia Lian attempts to dissuade him.
"Now look here, young Liu, this won't do, you know! A pledge is a pledge. The whole idea of it is to guard against people having second thoughts like this. An engagement to marry isn't something you can just jump into and out of at will. I'm afraid what you are proposing is quite impossible."
Xianglian smiled patiently.
"No doubt you are in the right, and I am perfectly prepared for you to reproach me; but I am afraid I cannot go through with this marriage under any circumstances.
Jia Lian seemed about to argue, but Xianglian frustrated him by rising to his feet.
"Could we discuss this somewhere else please? It isn't very convenient talking about it here."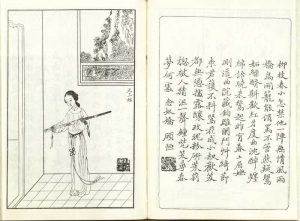 You Sanjie had been able to hear the whole of this conversation quite clearly from her room. She had waited so long for Xianglian and now that at last he had come, he was rejecting her. It must be because of something he had heard about her in the Jia mansion. He probably thought of her as a shameless wanton, the sort of woman who throws herself at men, unworthy to be his wife. If she allowed the two men to go off together, there was little likelihood that Jia Lian could do anything to stop him from breaking off the engagement; and even if he tried arguing with him, the probable outcome would only be further damage to her reputation. As soon, therefore, as she heard Jia Lian agreeing to go outside with him, she snatched the swords from the wall, and having first drawn out the Duck and hidden it behind her back, she hurried into the sitting-room to see them.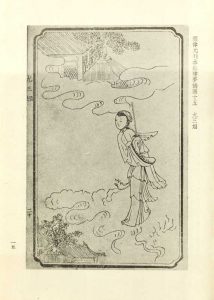 "There is no need for you to go out and discuss anything," she said. "Here is your pledge back."
The tears were pouring down her cheeks like rain. She held out the scabbard with the single sword in her left hand. As Xianglian took it, she whipped the other sword out with her right hand and slashed it across her throat. It was all over in a moment.
"Red scatter of broken blossoms, and the jade column fallen,
Never to rise again."
The terrified servants made futile attempts to resuscitate her, but she was already dead. Old Mrs. You wept and screamed, breaking off from time to time to inveigh against Xianglian as a murderer. Jia Lian seized hold of Xianglian and called for someone to bring a rope, intending to tie him up and take him to the yamen; but Erjie checked her weeping and did her best to dissuade him.
"He didn't force her to do it, it was her own decision. What good will taking him to the yamen do? We don't want a public scandal on top of everything else. Much better let him go."
Jia Lian, whose resolution seemed temporarily to have deserted him, let go of Xianglin automatically, but Xianglian made no attempt to escape.
"I didn't know she was like this," he said, weeping. "She had a noble heart. It wasn't my luck to have her."
He lifted up his own voice then and wept, as if he had been weeping for his bride. He stayed with the family until the coffin had been bought and Sanjie laid inside it; and when the lid was closed over her, he threw himself on it and clung to it for a long time weeping. Only then did he tale leave of them, walking along out of the gate, blinded by his tears and scarcely knowing where he was going.
As he walked along in a daze, his thoughts full of Sanjie's rare combination of beauty and resoluteness which he had so wantonly rejected, one of Xue Pan's little pages came looking for him to take him to his new house. Xianglian was too distracted to pay the boy much attention and allowed himself to be led there by the hand. It was a pleasant, well-appointed little house. While he and the page stood waiting in the sitting-room, he heard a little tinkling noise–the sound made by the girdle-gems of a hurrying woman–and Sanjie came into it from the outside. She had the Duck cradled in her right arm. Her left hand was holding some sort of album or ledger.
"I loved you for five years," she said. (The tears were still running down her cheeks.) "I did not know that your heart was as cold as your face. It was a foolish love, and I have paid for it with my life. Now I am ordered to go to the Fairy Disenchantment's tribunal in the Land of Illusion to keep the records of the other lovers who are under her jurisdiction. But I could not bear to leave without seeing you just once more before I go. After this I shall never see you again."
She began to go, but Xianglian wanted to question her and tried to stop her going. She spoke again, but this time it sounded more like an incantation.
"From love I came; from love I now depart. I wasted my life for love, and now that I have woken up, I am ashamed of my folly. From now on we are nothing to each other, you and I–nothing."
A little gust of wind with a faint fragrance on it seemed to blow past him as she uttered these last words, and the very next moment she had vanished.
The Chinese text (from the Chinese Text Project) can be found here and is pasted below.
那尤三姐在房明明聽見。好容易等了他來,今忽見反悔,便知他在賈府中聽了什麼話來,把自己也當做淫奔無恥之流,不屑為妻。今若容他出去和賈璉說退親,料那賈璉不但無法可處,就是爭辯起來,自己也無趣味。一聽賈璉要同他出去,連忙摘下劍來,將一股雌鋒隱在肘後,出來便說:「你們也不必出去再議,還你的定禮!」一面淚如雨下,左手將劍並鞘送給湘蓮,右手回肘,只往項上一橫,可憐「揉碎桃花紅滿地,玉山傾倒再難扶!」
當下嚇的眾人急救不迭。尤老娘一面嚎哭,一面大罵湘蓮。賈璉揪住湘蓮,命人綑了送官。二姐兒忙止淚,反勸賈璉:「人家並沒威逼他,是他自尋短見,你便送他到官,又有何益?反覺生事出醜。不如放他去罷!」
賈璉此時也沒了主意,便放了手,命湘蓮快去。湘蓮反不動身,拉下手絹,拭淚道:「我並不知是這等剛烈人!真真可敬!是我沒福消受。」大哭一場,等買了棺木,眼看著入殮,又撫棺大哭一場,方告辭而去。出門正無所之,昏昏默默,自想方纔之事:「原來這樣標致人才,又這等剛烈!」自悔不及,信步行來,也不自知了。
正走之間,只聽得隱隱一陣環佩之聲,三姐從那邊來了,一手捧著「鴛鴦劍」,一手捧著一卷冊子,向湘蓮哭道:「妾癡情待君五年,不期君果冷心冷面。妾以死報此癡情!妾今奉警幻仙姑之命,前往太虛幻境修注案中所有一干情鬼。妾不忍相別,故來一會,從此再不能相見矣!」說畢,又向湘蓮灑了幾點眼淚,便要告辭而行。湘蓮不捨,連忙欲上來拉住問時,那三姐一摔手,便自去了。這裡柳湘蓮放聲大哭,不覺自夢中哭醒,似夢非夢,睜眼看時,竟是一座破廟,旁邊坐著一個瘸腿道士捕虱。湘蓮便起身稽首相問:「此係何方?仙師何號?」道士笑道:「連我也不知道此係何方,我係何人。不過暫來歇腿而已。」柳湘蓮聽了,冷然如寒冰侵骨。掣出那股雄劍來,將萬根煩惱絲,一揮而盡,便隨那道士,不知往那裡去了。
Biogr
aphical material on Song (work in progress)
A short biography of Song is available in the Guochao guige shichao 國朝閨閣詩鈔 (edited by Cai Daiqi, 蔡殿齊 1844) which is available at the Ming Qing Women's Writing Database.