This work is dedicated to the many MANY students in my classrooms on college campuses, in the community, online, and in person over the last 43 years. The gift of what you taught me about teaching, about community, about how people learn, about people cannot be easily conveyed with words. To hone in on one group, thank you to the students in FSOS 3105 from fall 2017 through spring 2022. You truly shaped the contents and the philosophy and the ❤️ of this book.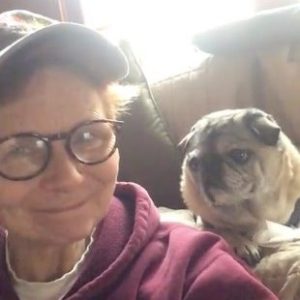 Massive hugs 🤗 to my family. My husband, Patrick, with his slightly geeky, IT-forward nature, was an inspiration to me by having lots of tech around the house and nudging me into using it and loving it. My daughter, Alice, honestly motivated my bridge from tech as a teacher, to technology in parenting and family life education. When I witnessed her capable use of multiple devices at age 14, I imagined our profession with a generation of tech-savvy parents who had expectations for what and how we taught. This book, and my interest in this topic, would not have existed without these two, my constants, who continually fed my curiosity. And Audrey, my pug, has been my velcroed companion for the last 16 years and has provided emotional support during my adventures.
I also thank the most amazing Samantha Daddi, George Schorse, and Sahar Khanpoor, who assisted me with finding resources for the book. As former 3105 students and young adult tech users, they also provided tremendous insight. Thanks too to Samantha LeBoeuf, Seonghee Hong, and Becca Leaf, who served as TAs for 3105; to Xiaoran Sun, who shadowed, supported, and strengthened my final semester in the classroom and who is most capably taking 3105 forward; and to the incredible women and men who, as graduate and undergraduate students, assisted me in years of research to help me better understand this topic (with special shout out to Tatiana Jara Pacheco and Bosco Cheng).
Buckets of appreciation as well to Shane Nackerud and Emily McLoughlin with the UMN Libraries, and to Sue Everson, who helped copy edit my many many words.
Applause to those who gave me opportunities to dig in to this topic over the last decade or so.
the St Paul ECFE program and especially Elizabeth Hoodecheck (a most remarkable parenting educator) and Loren Terveen in Computer Science, who took a risk on a tech-design rookie in 2013 when we desired Parentopia (the miraculous appearance of Jake Larson helped).
the National Council on Family Relations who invited me to author a chapter on Families and Tech for a 2015 volume of Family Life Education, collaborated on a 2017 national study of family professionals and technology, and agreed to a re-launch of the Families and Technology Focus (special interest) group.
the FSOS department at the UMN who gave me space to develop the Families and Tech course in 2017. And to my Learning Technologies colleagues in the college (CEHD), colleagues in Computer Science, Chris Greenhow, and to and professional associations like Computer Supported Collaborative Learning/International Society for Learning (CSCL/ISLS) who motivated my cross-discipline creativity.
And to the United Nations who commissioned my writing on Families and Technology in 2021 who, along with the International Federation on Family Development (IFFD.org) continue to be global collaborators.
And finally, thanks to my colleagues who pioneered our move from family science to an integrated view of families and technology. This includes the many practitioners who wade into this new landscape with more curiosity than resources. Please know that your practice, your research, and your efforts at conceptualizing this new world continue to be a beacon for many – including and especially me.