Chapter 12: Shifting the Culture: Policy, Practice and Research toward Healthy Family Technology Use
12.1 Shifting the Culture: Policy, Practice and Research toward Healthy Family Technology Use
We all do better when we all do better.
― Paul Wellstone, Senator-MN
Never doubt that a small group of thoughtful, committed citizens can change the world; Indeed, it's the only thing that ever has.
― Margaret Mead
---
Policies involving the safe use of the internet, social media and digital devices have evolved over the last 30 years.
While policies to keep children safe online are essential, they must not stand alone yet stand in complement to myriad other policies for children's health and well-being across the ecologies that influence their development.
Areas of ICT policy include digital equity, digital privacy, platform accountability, digital ethics, digital competencies and digital culture.
ICT policy exists on many levels, from the family, to nearby ecologies of schools and school districts, and public and private institutions, to policies affecting tech companies, and as set by governments and global non-governmental agencies including the United Nations.
The policy development process applied to other matters can be used with technology, and is a recursive process from understanding the agenda through policy implementation and evaluation.
Taking a systemic view at policy in which it is integrated with ongoing research and practice with children and families is a way to shift the field of family science and practice. In that way, researchers are informed by the needs of practitioners and families, practitioners have a direct application to ongoing research and are supported by policies, and the policy level can monitor, synthesize and shape research in ways that move the needs of children, families and communities – and the professionals who serve them – forward.
After reading this chapter, identify what you feel inspired by, the questions that remain for you, and the steps you can take for your own technology use to be more intentional.
Introduction
We complete our journey on technology and the family by addressing ways to implement positive change for families through policy. The quotes above capture the spirit of social justice in policy, and the potential power in coming together to identify strategy for the world. While public or social policy may seem to happen at the widest level of our eco-systemic view of families, policy can realistically occur at any level. Wikipedia offers the most general definition: "Policy is a deliberate system of guidelines to guide decisions and achieve rational outcomes."
This definition works well as we consider that policy can dictate laws and regulations "for the good of the people," yet can also guide the practices of a school district, company, or, smaller still, a household. It's essential to include policy in our critical view of families and technology because, as our understanding of its benefits and consequences evolves with the speed of innovation, we realize the need for guidance around decision-making to "achieve rational outcomes" that benefit all (or at least the majority).
Think of children's safety online. Nearly 30 years ago, guidance consisted mostly of advice to parents about keeping children from exposure to predators in chat rooms. As a parent I vividly remember this in the 1990s when my daughter was interested in playing computer games and encouraged by her friends to explore the internet. But with the explosion of social media, data sharing and privacy violations (some by family members), human trafficking, data tracking, and identity theft, policies and laws have been developed to address what tech manufacturers can and can't do, specifically for children under 13 years (e.g., Child Online Privacy Protection Act, or COPPA), what can and cannot be shared (e.g., Children's Internet Protection Act, or CIPA), and how children's rights can be protected. A global conference in 2022 focused on data and age-appropriate content in site design, digital literacy, and advocacy against child sexual abuse material (CSAM) online.
In terms of policy, a focus on technology and the family should be in the same conversation as a focus on the complex conditions that influence child and family well-being. It's also important that, as we talk about policy with regard to technology and the family, we don't lose site of other policies valuable to the well-being of children and families. Just as our use of technology for communications or for information gathering is used in complement to other media and sources, policies that affect the well-being and safety of children and families act in complement to other policies. [1]
In Chapter 5, for example, we discussed concerns over technology use by teens relative to their wider ecology, observing that those demonstrating risks from technology are likely responding less to the platform or device and more to their environment. Stressors of living in conditions that can affect physical and mental health will only be exacerbated by negative influences from social media, violent videogames, or the lure of apps that encourage endless attention. Technology use and access is part of the wider scope of policies that support families. Technology-focused groups such as Commonsense Media also advocate for more global policy affecting child well-being, and associations that may advocate for technology rights and protections include these as a larger scope. See, for example, the American Psychological Association and the Society for Research on Child Development.
Throughout the book, we've discussed policies regarding digital technologies and families. These have been a blend of legal protections and guidance toward "rational outcomes," and many align with Commonsense Media's resources for advocacy areas of Digital Equity, Digital Privacy, and Platform Accountability.
Chapter 3: internet access through infrastructure supports worldwide
Chapter 4: protections related to safety, trafficking, and tech-facilitated intimate partner biolence
Chapters 5 & 7: child protection laws; developmental readiness for children's smartphone ownership; consequences of cyberbullying
Chapter 6: ethical practice for parents around "sharenting"
Chapters 7 & 8: family media planning
Chapter 9: work and family policies (e.g., work-family leave, child care support)
Chapter 10: HIPPA; privacy and security of health and financial information
Chapter 11: license, practice, and preparation to practice guidelines for family professionals, including licensed parenting and/or family educators, social workers and family service professionals, and couple and family therapists.
The discussion here focuses on elements of policy as it relates to technology use, evidence of policy that occurs on many levels, and how policy intersects with the eco-system of personal technology use, research on family use and outcomes, and community-level practice that influences family well-being.
Areas of Technology Policy
In its 2017 report, Children in a Digital World (p.11), the United Nations offered six priority actions:
Provide all children with affordable access to high-quality online resources.
Protect children from harm online — including abuse, exploitation, trafficking, cyberbullying, and exposure to unsuitable materials.
Safeguard children's privacy and identities online.
Teach digital literacy to keep children informed, engaged, and safe online.
Leverage the power of the private sector to advance ethical standards and practice that protect and benefit children online.
Put children at the center of digital policy.
Livingstone and Blum-Ross (2020) offered further recommendations for support to parents' involvement in children's digital futures (pp. 191–194):
Provide support for parents that encompasses the digital environment.
Offer parents a realistic vision in public and media discourses.
Recognize the contribution of parents in educational settings.
Pay attention to the design and governance of the digital environment.
Make room for parents' voices in policymaking.
Make sure the policy, and the design of technology, is based on evidence.
We can add to these recommendations the myriad environments, actions, and competencies for professionals outlined in the previous chapter, integrating technology in their content area knowledge and in their skills for delivery.
Across this ecology, then, we see a variety and types of policy actions relevant to technology and family well-being.
Digital equity
Digital equity focuses on reducing the digital/skills/access/information divides by ensuring greater access to the internet, to devices that connect to the internet and for communication, and to the training and accommodations needed so that all can use technology with the same level of comfort and skill. Commonsense Media offers a state-by-state view of information on digital access. For Minnesota, for example, it states that as of October, 2022,
249,845 students and 6,379 teachers lack adequate internet access. Up to 162,607 students and 1,046 teachers are without the technology and devices at home to support distance learning. About 22% of the students who lack access are Black, Latinx, or Native American.
Digital equity policies include:
Making broadband internet accessible. Increasing internet access not only benefits individual households, but improves family access to health care, education, and employment. One such program in the U.S. is the Federal Communications Commission (FCC)'s Lifeline program. The FCC also makes funding available to restore internet access after an emergency, and offers other internet access initiatives. And as noted in Chapter 3, global groups advocate for universal internet access — though given public opposition and infrastructure costs, this may be a significant challenge.
Training and material supports. Groups like the National Collaborative for Digital Equity have programs that offer refurbished laptops, mentoring, assistance to libraries, and company incentives and youth development programs. They include a database of digital equity resources that includes funding ideas, information on early literacy on technology, and help for libraries.
Making digital applications and devices accessible to accommodate language, literacy, and ability. The U.S. Department of Labor's Office of Disability Employment Policy (ODEP) / Center of Development Expertise for Accessibility Task Force defined digital accessibility as "the ability for a user to perceive, understand, navigate, and interact with hardware, software, websites, and documents regardless of age and ability." As indicated, this goes beyond ensuring access to ensuring that a device or the internet is usable and navigable, taking into consideration the range of abilities individuals possess. An excellent example of policy and procedures for full (employee) access comes from the Opportunities for Ohioans with Disabilities: Digital Accessibility and Accommodations: Learner's Guide.
Digital privacy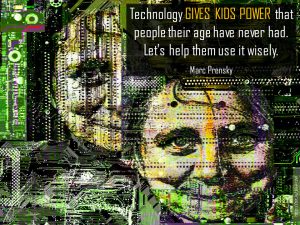 The U.S. Department of Commerce defines digital privacy as "the protection of personally identifiable or business identifiable information that is collected from respondents through information collection activities or from other sources and that is maintained by the [agency.]" [2] A number of federal regulations are in place for digital privacy and safety, particularly as they regard children. Digital privacy is often scope of technology policies proposed and enacted by companies, agencies, and schools for the protection of its citizens. These are discussed below.
Federal actions to ensure children's digital safety include the Child Internet Protection Act (CIPA) and the Childrens Online Privacy and Protection Act (COPPA). The U.S. government's Protecting Children in the 21st Century Act ensures education about online threats. Though non-specific to e-documents, FERPA (Family Education Records Protection Act) and HIPAA (Health Information Portability and Accountability A`ct) protect the sharing of personal information related to school records and health information, respectively.
Microanalytics offers a good overview of digital privacy, including specific threats such as cookies, phishing, and unsecured browsing. At home, parents need to be aware of privacy protections on all devices, including smart toys, smart homes, and virtual and augmented reality, and of advertisements targeted at children.
As many schools moved to distance learning, Commonsense Media offered recommendations for families on digital privacy. These speak to safety and advocacy, and even lean toward suggesting family policy for digital privacy.
Make privacy a family value. Commonsense Media has a number of resources to help your family better understand how to protect your privacy and why it's important, including an FAQ, advice articles, and classroom lessons on privacy and security.

Be careful what you share online about your kids and their classmates. It's worth knowing the facts before posting pictures or letting other people post pictures of your kids. One important rule of thumb with distance learning: Don't post photos of your kid attending online class to your social media if their classmates are visible.

Learn about parental controls to minimize distractions and data collection. You don't need to be an expert at managing technology to help your kid stay safe and focused online. Check with your school's technology department to find out what safeguards and filters are already in place and what additional parental controls you can set up.
Know whether classes may be recorded or monitored. You should understand your school's policies regarding video-conferencing and classroom monitoring. It's useful to know how your kid's teacher will track student attendance or progress and what this means for their grades. And be sure that your kid — no matter how old they are — knows the expectations for video-chatting in online classrooms.
Learn more about your school's educational apps and platforms. Particularly now, schools have an important job in safeguarding student privacy. Parents and caregivers should get familiar with their school's tools, try to learn about the risks of the top distance learning apps, and ask the school directly how they are protecting kids
Ask questions, and exercise your privacy rights. Remember that you have rights to access your kid's education records and any information that apps collect from your kid under federal and state laws.
Platform accountability
Platform accountability policies hold websites — and social media companies in particular — responsible for monitoring the content shared online that is offensive and stimulates hate crimes. One group fighting on this issue is Stop Hate for Profit. In mid-September 2022 the White House held a summit on hate-fueled violence, which included discussion of the spread through social media.
Digital ethics
Digital ethics policies address behavior on the internet and digital devices. While this is a broad area, and includes privacy and safety actions, digital ethics covers issues beyond these specific elements. For example, in Chapter 7 we discussed the case of a father who went online in a viral video to complain about the racist bullying his daughter endured. As part of that rant he outed the father of the bullying children, including the man's name (though stated that he'd informed the man ahead of time). While we can see this as an act of desperation by a caring father, we might also question its ethics considering the consequences that befell the bully's father in the 24–48 hours after the initial video was posted. Digital ethics often involves cases in which there are unintended consequences. E-portfolios, for example, have become a popular and convenient way for students and professionals to share their work. Yet as Wilson et al. (2018) discuss, too often individuals cited in that work are exposed when permissions have not been secured. Reyman and Sparby's 2019 book on Digital Ethics presents a number of related cases.
Digital competencies
As presented in the previous chapter, professions — including the family professions — identify standards of excellence for their practitioners. These standards are translated into competencies, and university preparation programs and programs overseeing licensure and other accreditation ensure that pre-professionals demonstrate those competencies. The last twenty years have seen the addition of digital competencies in the practice standards of professionals. These include the nine categories of Ribble's Digital Citizenship and competence in ensuring that their practice is ethical, safe, protects clients, and effectively deploys the internet and digital media as tools in the delivery of service.
Digital culture
While less specific the policies discussed above, policies that speak to a digital culture embrace the new world of ICT as holding possibilities yet needing intention and shaping. When we examine the professional competencies for professionals, such as those reviewed in Chapter 11 for social workers, we see a wholesale adoption of a new way of working for practitioners.
Embracing this cultural shift means offering guidance through policy across all dimensions of practice, and ensuring that policies are worded to include an understanding of new virtual worlds, devices, means for communication and social interaction, and the need for re-training and joint decision making. Shifting environments to embrace the digital culture means collaborative, visionary, and informed planning, policy, implementation, and assessment.
Outlets for Technology Policy for Children and Families
In addition to specific laws enacted to protect children and others from invasions of privacy and harm, such as COPPA, CIPA, FERPA, and HIPPA (fun saying them, isn't it? 🙂) policies related to technology use can be found from global to local levels.
United Nations
The Department of Economic and Social Affairs (UNDESA) Division for Inclusive Social Development (DISD) identified digital technology as one of four megatrends facing families (along with urbanization, migration, and climate change). In 2021, I prepared a report for the UN on digital technologies' impacts on the family, specific to parenting education and work and family balance, and recommended a number of policy actions specific to these two areas (and detailed in Chapters 11 and 9, respectively).
The United Nations more broadly promotes Sustainable Development Goals (SDGs)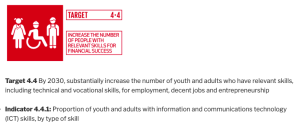 that address a wide range of issues facing the world's population. Equity and access for families are key considerations for SDG 3 (health care) and SDG 4 (education) targets. As shown to the right, SDG4.4 deals with ICT skills, with an indicator based on the proportion of the population possessing those skills. Fostering families' access to technology in developing countries, including those in Africa with the least internet coverage, would help address SDG 9, which promotes inclusive and sustainable industrialization. Similarly, ensuring wider and more equitable access for global families will target the need for information for sustainable living (SDG 12).
National agencies and associations
Professional associations, including the American Psychological Association (APA), the American Association of Marriage and Family Therapists (AAMFT), the National Council on Family Relations (NCFR), and others, have advocacy arms that provide information on legislation and on action toward policy creation or enactment.
The National Association of Social Workers, for example, offers this guidance in their 2021 Federal Blueprint for Social Welfare Policies:
NASW calls on national leaders to:
Make telehealth expansion under COVID-19 permanent, including removing geographic or site restrictions, allowing the use of audio-only devices, and ensuring parity in payment with in-person service payment rates.
Expand internet connectivity for underserved households.
Unlock government data to drive solutions to social problems by promoting the accessibility and mining across agencies of administrative records.
The International Society of Technology in Education promotes policy in the following areas:
Educator preparation and professional development
Broadband internet for learning
Student privacy and security
Digital citizenship
Higher ed modernization
Computer science and computational thinking
Smaller entities, such as school districts and companies, may have technology policies that primarily act as legal documents to outline safe use. These policies point somewhat inward, conferring guidance and protections for those within the scope of the agency. According to the Sunstate Technology Group,
A Technology Use Policy is a contract between a business and its employees, contractors, vendors and anyone else who is given access to the company's technology assets (desktops, laptops, phones, software, network, files, etc.). The policy outlines exactly how the technology can be used as well as the consequences for unauthorized use. It's a good idea to go through the policy with every employee at onboarding and annually thereafter.
School districts
The Roseville (CA) school district offers a comprehensive technology policy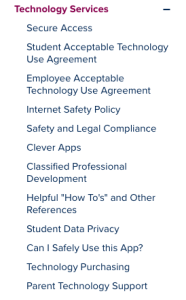 , which includes a technology plan for the school district along with actions guidance on a number of areas including security (access, internet safety, student digital safety), employee training, agreements on use for students and for staff (in English/Spanish) and support for parents detailing conditions for home-based use of school software and other technology; see the list at left. Here is a sample student agreement in English. The terms of the agreement relate to use of technology "in a safe, responsible and proper manner in support of instructional programs," and for the rational outcomes defined as "for the advancement of student learning." As with many legal agreements (the school district being an agency of the city or state government), definitions are offered, conditions are stated, and penalties are listed, here ranging from removing the student's account to legal action as appropriate.
The area of student data privacy includes a lengthy list of applications approved for use by the school district. Internet safety ensures CIPA compliance, and safety and legal compliance offers summaries of CIPA, COPPA, and the Family Education Records Protection Act (FERPA).
The Minnetonka School District (MN) offers de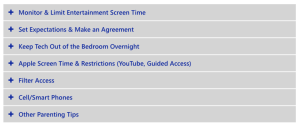 tailed advice for children and parents on digital safety, indicated at the right. The Stillwater Public Schools (MN) make a clear point about ensuring access for all learners as part of their education technology policy. And Sonia Livingstone offered this salient critique on setting school-based technology policy.
Companies/Industry/Non-profits
Companies also have technology-related policies, many that relate to data security and safe use. These have become so prevalent that template documents are now available for a number of policies. This is a sample from the company Astra-Zeneca.
Technology industry
In addition to policies used with their employees for data safety and security, technology company product policies can ensure user safety by protecting data, prioritizing parental controls, advocating for truth and against hate speech online, funding independent research, designing humane products, and stopping tracking of and marketing to children (Commonsense Media). The degree to which these companies create and follow policy may relate to their dependence on the financial bottom line. Why would a social media platform be motivated to change the algorithm that pushes content to users that might be harmful to mental health, yet keeps the user engaged? Whose job is it to incentivize, monitor, or sanction these companies? Questions arise on the role of the federal government when tech companies fail to monitor or control content (which, admittedly, is a tricky thing).
Family
Family-level policy on technology is a significant step toward collectively maintaining standards of safety and healthy use. All members weigh in and clarify desired outcomes that reflect individual and family well-being, and agree to actions that result in those outcomes. Although there is plenty of guidance for parents on ways to monitor their children's use and promote safety, a whole-family technology use policy includes adult behaviors as well. This example from Judith Kohlberg (2021) nicely covers elements of a family technology plan and ways to create it collaboratively.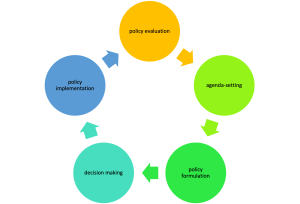 The Policy Development Process
As indicated in the figure to the right, the policy development process involves a series of steps (Hawlett & Geist, 2012), all of which are applicable to creating technology policy, regardless of the jurisdiction or level. The first three steps may be considered policy development, with implementation and assessment completing the cycle. As with any cyclical action, information gained from the evaluation is further integrated with ongoing policy formation and implementation.
Agenda setting establishes the issue at hand and sentiment for the need to create policy. Essential is that all key informants and decision makers are heard during this stage.
Policy formation occurs as key actors construct a policy reflecting the interests of the community and, as Hawlett and Geist (2012) observe, "contingent on the nature and the configuration of the policy community and network in the specific sector concerned" (p. 19). Often, research is conducted and evidence brought forward about the issue, the pros and cons are considered, and actions recommended. Stephanie Schaeffer's 2001 Understanding Research: Top Ten Tips for Advocates and Policymakers remains a critically helpful guide in assessing the trustworthiness of research (including that published online) to be used as evidence for a policy. Even deliberations at local levels, including the family, should be based on evidence and reasoned thinking. Oftentimes for wide-scale technology policy, data on internet access, technology use and impacts will be used as a foundation for decision-making (e.g., UNICEF, 2016a, b, 2020).
Decision-making, while often subject to small- and large-scale politics, is ideally based on a rational approach to policy making, with policy constructed and implemented to reach rational conclusions. As the Center for Effective Services (CES) in Dublin, Ireland, observes, "Political issues include getting buy-in, setting a vision and managing opposition." Decision-making also takes into account the steps required to lay out the policy in technical detail for implementation planning, and those that may relate to regulatory integration.
Implementation of a policy puts into place the priorities and actions stated in the policy. It is essential, however, that the policy development process has culminated in a clear road map for efficient implementation. Too often, a weakly phrased and overly general policy leads to chaotic implementation. Imagine the family whose technology policy is that "we respect each others use of devices." It's a nice sentiment, but it gives little basis for implementation. The difference in policy setting and implementation is intention vs. action. At the least, according to the CES, there should be leadership, communication, and feedback. Leadership can affect and deploy existing policies, resources, structures, and programs. Communication occurs across the system to provide ongoing reports of action and feedback (including positive reinforcement and cheerleading internally and to stakeholders when necessary). Feedback "should be established between policymakers and front-line practitioners once implementation has begun, to ensure the policy is being implemented as intended, unplanned consequences are addressed efficiently and to support the learning capacity of the system" (CES, 2022). [3]
Evaluation of policy (according to the Centers for Disease Control 2012) applies evaluation principles and methods to examine the content, implementation, or impact of a policy. Evaluation is the activity through which we develop an understanding of the merit, worth, and utility of a policy (p. 1). As this indicates, evaluation is an ongoing process that checks the quality of the policy as written, the steps in implementation, and the effect. Perhaps at its most basic, policy impact evaluation can be sitting back after a policy has been in place and implemented for a while to ask if a difference has occurred (as intended by the policy).

It is up to those setting and implementing the policy to determine what the outcomes might be, whether they be in the short term or the long term. A school district technology policy, for example, may seek more family engagement through its social media platform. In the short term, this might be measured through analytics of platform use, including quantities of parents, and subsets that represent population groups. Longer-term impact might be indicated through engagement that traverses the virtual and physical landscape, with family feelings of connectedness, participation in school policy, and engagement with their childrens' teachers observed across families representative of the school community.
As the National Collaborating Centre for Public Policy out of Canada observes in their guide to policy evaluation (2012), it is also important to observe the unintended consequences [4] (and benefits) from policy implementation. As discussed in this book, attention to policies regarding technology — information and communications technologies, learning technologies, digital technologies, and the like — has grown over the years. Readers may find that groups such as the OECD (Organisation for Economic Co-operation and Development) or the World Bank can be relied upon to document the impact of governmental or educational policies.
Intentional Integration of Policy with Research and Practice
Research is critical for our understanding of phenomena and, as often said, we have learned a lot but have so much more to learn. Our research needs to keep up with technological changes and innovations; preferences and uses by consumers; differences by the many demographic dimensions that characterize individuals, families, and societies; and the many contexts (e.g., work, school, leisure) of family life. It needs to close the gaps in our current knowledge, moving beyond convenient college student, higher-tech, and white higher-SES samples, especially those in the U.S. and other "WEIRD" countries, and explore the range of populations of families and technology users. And it needs to use up-to-date research methods and statistical techniques to ask the questions that, to date, we haven't even considered.
Research, however, isn't enough. For any family research study we must ask, how does this finding inform practice with families? How does it contribute to ways to make families' lives safer and more equitable? Practitioners and policy makers must partner with researchers to ask these questions (and be incentivized to the applied nature of such investigations). Traditionally, this integrated perspective has been the domain of health and public health practice (Brownson & Jones, 2009), education (Read, 2010) ) and criminal justice (Lauren, 1997).
An example from the last chapter provides a good example of policy utilizing research findings. Research has identified ways in which children learn effectively (i.e., understand content and gain cognitive and behavioral skills and attitudes and dispositions) with technology and with which technology, when, and how. It also informs how to teach with technology, including how to differentiate instruction and how specific technologies can be effective (see, for example, the quick turn to Zoom during COVID-19). Such research informs practice by teachers, and also informs policy. A professional association (like the International Society for Technology in Education, ISTE) reviews the research and establishes standards, not only for teachers, but for students, administrators, and teacher coaches. These standards inform state licensing policy, which defines the set of competencies required for licensure, in this case, specific to the use of technology and digital literacy. Yet these policies do more than dictate practice competency. Through its influence on statewide/national and international practice, a more macro level of policy and guidance also promotes a culture of technology integration, a culture which affects professional development, employment practices, and occupational supports. this more macro level of policy and guidance also promotes a culture of technology integration, a culture which affects professional development, employment practices, and occupational supports. Over time, the attitudes and skills of professionals rise to this standard of expectation because their actions are not isolated, but part of a systemic response. This raises the probability that any family working with that professional will be met with a technology-forward attitude, and that practice will accommodate the families' needs.
Integrating research, practice & policy as a framework toward collective action on family and technology
In 2016 I authored a piece for the Journal of Family and Consumer Sciences titled Creating the Future We Want: A Framework for Integrating Family and Consumer Sciences Research, Practice, and Policy on Technology Use (Walker, 2016). The framework was informed by other systemic models, such as the Head Start Family, Practice, Community Engagement framework (Office of Head Start, 2011), which links wider policy with practice to influence direct and indirect outcomes. With regard to family engagement, parenting education and parenting support are a direct outcome of policy and practice efforts (practice that includes supports to teachers); the influence parents have on their children's academic achievement and development is an indirect outcome of policy and practice engagement work.
In the case of our field addressing technology, I proposed that,To create the future we want, we need to take a systemic approach to technology, rather than allowing it to be up to the whims of those interested in using tech, to occur in a piecemeal and uncoordinated fashion, and to be left only to programs with the resources to deploy technology. "to create the future we want," we take a systemic approach to technology, rather than allowing it to be up to the whims of those interested in using tech, to occur in a piecemeal and uncoordinated fashion, and to be left only to programs with the resources to deploy technology. I became passionate about this because, after a decade of playing in the sandbox with my colleagues in education, where technology was heralded as a new tool for learning and instruction and where I witnessed family professionals literally "left to their own devices" (Walker, 2019), I decided it was time that we step back and create a culture of technology in our practice — one that regards the value of our ongoing research, respects the needs of practitioners, and embraces a systems approach to implement lasting change. Readers are strongly encouraged to read the article for component-by-component explanations.
Here is an overview of the systemic framework offered in that paper:
Research on technology that focuses on related dimensions of a) technology use as demonstrated by access, comfort, and skill, and b) individual and family processes and outcomes.
Technology use research variables include:

user characteristics (demographics, tech attitude, comfort, skill),
technology (type, context , characteristics), and
functions and purposes for technology use (e.g., communication, entertainment).
Works backward: presents the outcomes desired, then the actions which directly influence the outcome.

Process and outcomes facilitated by technology include:

Individual family member well-being,
Family well-being and satisfaction,
Individual and family processes (e.g. learning, communication, social capital, connectedness), and
Outcomes external to the individual or family (e.g., technology developed, community well-being)
Professional Impacts Areas and Delivery Strategies Related to Technology
Individual and family impact areas

As a knowledge area (to promote balanced, effective use)
As a skills area (to promote effective use)

Impact strategies

Technology employed as effective practice (e.g., instruction, program design, counseling)
Field Foundations Related to Technology Integration
Training: preparation of professionals on the use of technology (preservice, inservice)
Standards for technology use in practice
Maintaining and promoting quality research through methodology, summaries, directions
Theoretical and conceptual models to frame research, practice, and policy
The framework is not linear, but interactive:
Research on technology use and family processes and outcomes informs:
(1) the design of technology to aid service delivery and effectiveness,
(2) the promotion of effective use by individuals families through knowledge and skill,
and
(1) the development and advocacy for policies regarding tech use by families, and
(2) the coordination on research methodologies and conceptual frameworks.
Research on effective use of technology in practice, and on technology as a content and skill outcome area for professionals, informs the need for field support and standards for training, implementation, guidance, workplace assistance, and regulation.
Field foundations, which hold an integrative understanding of technology use by families and the role that practitioners and policy play in effective technology use by families, enact a vision for positive family and individual outcomes by:
promoting effective knowledge and practice by professionals AND
advocating for progressive public policies, and – promoting quality research on practice and by families
The essential point of the framework is that as a family field (this holds for family service, family education, and family therapy), our research on technology use and impacts informs our practice so we may best serve families, and our foundations are inclusive, visionary, and integrative.
This is only one of many possible scenarios in which our field looks broadly at technology as an influence on family life, and on practice and policy. There are many ways to bring about progressive change, yet it is critical that we address the topic with the complexity and future thinking it deserves. Our ten truths about technology, covered in Chapter 1, remain truths. Our global world will continue to evolve, technological change will continue to impact family life in ways we have only begun to imagine, and the call for research to investigate the use and impacts on family and child development processes and outcomes will only get louder.
In Conclusion
As I close out this book, it is my fervent hope that we indeed take technology seriously, no longer keeping our heads in the sand or treating it as something to be feared, something for other fields, or something that we use in If we look at ourselves as future participants on this earth (i.e. Salk's 'good ancestors'), and as practitioners, researchers, administrators and policy makers, how can we not be interested in the ways that ICT influence us, and ways that we can be — and help others to be — more intentional in our use, alone, together, and as a global society. some domains (such as our teaching) but cannot translate to influences on the populations we care about. Whether our interest is in special populations of children or families (e.g., military families, transgender youth, Hmong divorced couples), information and communications technology impacts their lives. Usually for the better. And if our work is in supporting practitioners (or supporting ourselves as practitioners), we must advocate that resources and training and standards for our work be created and updated.
I hope that reading this book has inspired you to ask how technology shows up in our field, and question how it can be more present as a topic in what we teach and in our lines of research. If we look at ourselves as future participants on this earth (i.e. Salk's 'good ancestors,') and as practitioners, researchers, administrators, and policy makers, how can we not be interested in the ways that ICT influence us, and the ways that we can be — and help others to be — more intentional in our use, alone, together, and as a global society.
---