Chapter 3. Common Native Grasses of the Northern Midwest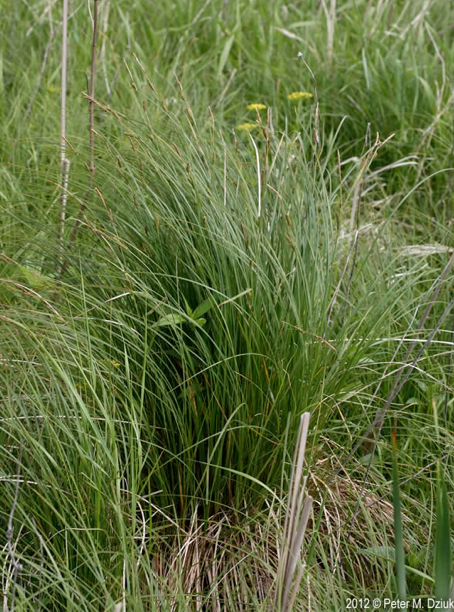 Carex stricta
Cool season; Perennial
Characteristics: 1–4'; mound to open upright; foliage green; flowers brown
Growing Conditions: moist to wet soils; full sun; standing water tolerant; hardy zones 3–7
Tussock sedge is a clump-forming sedge that can tolerate very wet sites. It is native to wetlands, wet meadows, fens, and prairie swales. It can tolerate flooding because it forms clumps above the water line, which allows water to get to its roots. This sedge can be aggressive in certain situations and develops a strong, deep root system.
No nativars are currently available. The plant is not widely available, but can be found at native garden centers.
Species that feed on tussock sedge according to the literature are bog lithacodia moth (Deltote bellicula), black dash (Euphyes conspicua), Appalachian brown (Satyrodes appalachia), marsh eyed brown (Satyrodes eurydice), and mulberry wing (Poanes massasoit).
A cultivar of a native plant.
The order that includes butterflies and moths.