Chapter 3. Common Native Grasses of the Northern Midwest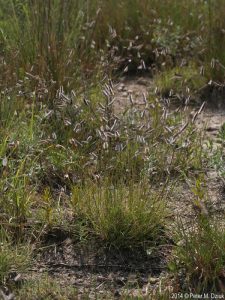 Bouteloua hirsuta
Warm season; Perennial
Characteristics: 12–24"; upright open; flowers green to purple; foliage chartreuse
Growing Conditions: average to dry; drought tolerant; full sun; hardy zones 3–8
Hairy grama is a smaller grass that has a very open growth habit, with leaves crowded near the base. The are similar in shape to blue grama, but are covered in fine hairs, giving them a fuzzy look. The seedheads can be green to purple, sometimes taking on a deep bronze color.
Currently, no nativars are available. The plant is not widely available, but can be found at native garden centers.
Species that feed on hairy grama according to the literature are Uncas skipper (Hesperia uncas), Ottoe skipper (Hesperia ottoe), and Leonard's skipper (Hesperia leonardus pawnee).
The non-technical term referring to the reproductive structure or inflorescence of a graminoid.
A cultivar of a native plant.
The order that includes butterflies and moths.