8.4 Two-step Research Tools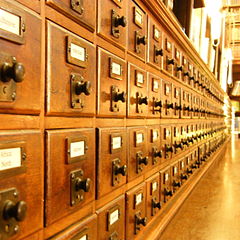 Library Catalog: key to the entire collection of information. The catalog details the holdings of the library and includes information about how each item may be located.
Indexes and Abstracts: the classic "two-step" tool. An index is a listing, usually alphabetically arranged by subject categories, of articles and materials that have appeared in other publications. There are indexes to magazine, newspaper, and journal articles; poems; plays; songs; speeches, etc.
The abstract is an index with a brief, non-evaluative summary of each article being described. Oftentimes, the well-written abstract has the substance of the article so you can get what you need simply from the brief description provided – you don't have to take that "second-step" to find the article itself.
You can see the tremendous variety of indexes in UMN library's list of Periodical Indexes here.
Some of the reference resources discussed above are still published in paper form but many, if not most, are found digitally online. As online resources, you will have multiple entry points into the material. Learning how the repositories of information are compiled, and searched, is the next step for developing your researching skills.