3

Where Living and Learning Meet: Bringing the Classroom into the City

Hilary Leighton and Ann Dale
Hilary Leighton, Assistant Professor, Royal Roads University
Ann Dale, Professor, School of Environment and Sustainability
It is at the in-between—at the edges—that things really happen, where habitats blend, where life and death meet regularly. Here, dynamic tensions hold and change each other, unexpected growth is possible, and new life can flourish. Ecopsychologist, Sewall (1999) explains, "The edge between land and sea, like other ecological edge effects, is teeming with life, with abundance, as species stretch between ecological zones, as if the world is more, always more" (pp. 135-136).

Many of the challenges that modern society faces demand unprecedented collaboration between sectors, transcend traditional disciplines, are beyond any one sector (Dale, 2001), and necessitate inter- and trans-disciplinary applied knowledge skills. There is also a proliferation of community- and university-led labs in which researchers come together with community leaders and practitioners using design thinking and makerspaces in an attempt to enhance social innovation. Collaboration doesn't happen independently. It requires unique skills and competencies normally under-valued in the academy and, in many sectors of society, found at the confluence of people, places, learning, and living. In this case, the spaces in between the classroom and the city offer a perfectly entangled place for (edge)ucators to let go of being wise and right and let what wants to happen, happen. . . for a change.
The Context
In 2017, the city of Victoria opened City Studio, a place intended to attract innovative, post-secondary learning and community engagement. At the same time, Royal Roads University was redesigning its Graduate Certificate in Sustainable Community Development program, integrating leading-edge online and face-to-face teaching and learning practices. Grounded in the principle of producing useful knowledge for decision-makers, its design included working with city officials to integrate live, local challenge case studies into its delivery.
The blended certificate program is comprised of three sequenced courses. The first, offered online, takes students on an erudite dive into current literature and theory. Building upon the four systemic properties of general systems thinking (Lazlo, 1996), the emphasis is placed on new and radical models of collaboration, integrated and creative decision-making, climate change adaptation and mitigation, and diversity and regeneration (Dale, 2001; Dale, Foon, Herbert, & Newell, 2014). In an in-depth examination of key issues, students gain a deeper understanding of the complexities involved in solving modern day "messy, wicked" problems (Paquet, 1989) for which there are no maps, models, solutions, or right answers.
At the midway point of the certificate program, the cohort convenes face-to-face at City Studio in downtown Victoria where students experience deliberately designed trans-disciplinary collaborative processes, informed agency, and community engagement as they actively research real-life cases identified by the City of Victoria's mayoral taskforce and senior planning staff. This hands-on, highly experiential, weeklong residency cultivates learning in a variety of settings – from traditional lectures and presentations to more spontaneous, arts-based, and improvisational learning that emerges both in and outside the classroom.
In the cumulative final online course, students face the grand challenges of sustainable community development in a co-laboratory or networked space for virtual collaboration and experimentation. Teams refine and craft first-rate practical and applied Action Plans for implementation at the local level and make their final presentations to the Mayor and City Council of Victoria. The face-to-face residency at City Studio, the centerpiece of the certificate, is the primary focus for this chapter.
We began to collaborate on our co-design about a year before it was to be delivered. Coming from two very different teaching methods and, as we discovered, very diverse literature domains, many meetings where we discussed what we read, what we thought about what we read, and our values and teaching styles were necessary. Our meetings were interactive and artful in and of themselves as we often 'drew' out our thinking using words and imagery. We ordered and re-ordered our ideas on giant, colorful sticky notes on the walls to find a rhythm and reason that fit the best of both of us at the confluence of our combined knowledge and abilities.
We talked about the skills and competencies we thought were needed for adult learning to be applied to sustainable community development. Learning outcomes included: the ability to effectively communicate a synthesis of insights and knowledge (using several forms of media) to create learning that incites action; demonstrated leadership through self-awareness and knowledge of self and others in order to model values, empower others, build trust, and share mutual successes; and to understand and synthesize knowledge using a systems thinking approach where the interrelationships between human, social, and ecological systems are always in the foreground. The best measure for this program's success would be if students could take what they have studied and practice it in ways that are collaborative, adaptive, integrated, co-constructive, and change-making.
One of our fundamental assumptions was the need for students to authentically connect with and collaborate on real-world learning opportunities (Brundiers, Wiek, & Redman, 2010) and to experience different ways of collaborating—both virtually and face-to-face. Both of us were deeply committed to integrating the arts and arts-based inquiry into our teaching to illustrate a need to move away from privileging one way of thinking and knowing over the other (Nachmanovitch, 1990). In our experience, art-making and arts-based inquiry still tend to be the 'illegitimate children of academia.' A more common, more traditional pedagogical approach might include readings, didactic lecture, quizzes, discussions, and final essays or projects. While these approaches can offer important learning, to make something together is more of a heuristic process that is not necessarily straightforward with its initial engagements, immersions, incubations, illuminations, creative syntheses, and final explications (Moustakas, 1990). Learning in this way may require the revisitation and repetition of material and concepts as students circle around problems and ideas before acquiring a fulsome understanding of them. By its very nature, active, experiential, arts-based learning implies more about beginnings than endings (Greene, 1995). It does not require a polished, finished product but rather allows for discoveries to emerge and take shape as iterative expressions and impressions that are unique to the learners in the moment and impossible to set beforehand.
Arts-based inquiry acts as a counterpart to the (an)aesthetics of a more static curriculum and to the hegemony of having to find that one right answer so often associated with and tied to fixed learning outcomes and objectives. Aesthetic education brings more of the emotional, personal, inner, and imaginative realms to complement and uplift rational and critical thought (Greene, 1995). "In this way, some outcomes will be unverifiable in their non-science, and often validities must be asserted through the seriousness of experience over predetermined thinking" (Leighton, 2014, p. 339). This brings the kind of learning that cannot be divorced from human-lived experience in its particularity. It requires us, as educators, to be more willingly involved, "to search for more sophisticated ways to understand and pay attention, be involved in our student's lives," where, "in the end, we may find we become more pedagogical, and more engaged ourselves" (Leighton, 2014, p. 339).
We also wanted to create a multi-sensory experience of 'being in the city' given the subject matter, especially since we would be working out of the city's lab space, which interestingly enough is across from a safe injection site, underscoring one of the urbanity's major issues—homelessness and drug addiction in the middle of, often pristine, urban beauty. Building upon the second author's well-known, three-imperatives definition of sustainability (Dale, 2001), we were conscious of the significance of creating a curriculum that would also purposefully serve the personal, more subjective imperative, and create and convene spaces for transformative learning to take place (Murga-Menoyo, Espinosa, & Novo, 2017) with powerful, life-changing, and self-actualizing effects for the student.
Transformative learning is defined by Simsek (2012) as a process of deep, constructive, and meaningful learning that goes beyond simple knowledge acquisition and supports critical ways in which learners consciously make meaning of their lives. Mezirov (2009) argues that transformative learning is becoming critically aware of tacit assumptions/expectations and assessing their relevance when making an interpretation. Transformative learning also involves simultaneous learning on two levels—cognitive and affective. Bloom, Hastings, & Madaus (1971) defined the latter as including an ability to deeply listen, to respond in interactions with others, to demonstrate attitudes or values appropriate to particular situations, to demonstrate balance and consideration, and to display a commitment to principled practice on a day-to-day basis, alongside a willingness to revise judgment and change behavior in the light of new evidence. Sipos, Battisti, & Grimm (2008) have another interesting understanding of transformative sustainability education. They believe that learning objectives are "organized by head, hands and heart—balancing cognitive, psychomotor and affective domains" (Sipos et al., 2008, p. 68). Hart (2001) encourages "an education of inner significance" (p. 7), where transformational experiences are more likely to occur when a link is made, and capacity is built between the interiority of the student and the external world. A richly layered curricular focus concerned with depth overgrowth means looking deeply into subjects rather than at the surface of things (a practice often associated with more traditional education). Hart (2001) suggests that we move from mere information exchange to open up into the rich terrain of knowledge and intelligence carved from both "the dialectics of intuition and the analytic" (p. 2). This is cultivated through directly lived experiences so students may become more capable and compassionate and have the wisdom and confidence to act ethically and the passion to do so.
Therefore, a genuine approach to transformational sustainable education requires an immersion into the environment itself, encounters with 'Other,' and notions of interrelatedness with all of life. This acts as an antidote to the (still) prevailing 'epistemological error' (Bateson, 1979) at the heart of the Western worldview, with its perception of separateness and rugged individualism, and may be viewed as an end in and of itself, with processes and outcomes particular to each student. Within a more formative and emancipatory educational context of "being in the world" (Heidegger, 1927/1962) and, in this case, 'being in the city,' self-knowing leads to self-actualization, reaching out beyond the discourse that happens in the classroom to consider the human soul in conversation with the world. Self-actualization (the ability to act in accordance to one's true nature in contribution and service) as we were seeing it, more often than not leads a person to change (for the better) and is in and of itself transformative (Sterling, 2008). This is explained further in the description of the exercise called 'Walking and Writing the City.'
In practical terms, in order to best explore issues and barriers, dialogue and consult, convene public forums and presentations, prototype and experiment, we needed to create conditions for students to systematically examine the issues of a place from its social, economic, and ecological perspectives (Dale, 2001). Therefore, we designed the program to embrace the self-organizing principles of living systems thinking. This type of system is recognized as not being able to be reduced to its components; self-stabilizing despite continual perturbations of, in, and through flowing information (and matter-energy); having the innate ability to evolve in complexity amidst this flux, and a whole in its own right as well as part of a larger whole or 'holon' (Lazlo, 1996; Macy & Brown, 1998). Beyond anthropocentrism, this holistic approach brings the interrelatedness of all life and our relatedness to all things into focus and suggests that what we do to the one we, in effect, do to the other, placing greater responsibility upon students for their actions and inactions. Systems thinking is now spreading through the social and natural sciences through its integration into the design of curriculums/programs themselves yet is slower to gain ground in education, even environmental education (Sterling, 2017), especially beyond mere content. For us, this meant creating the necessary space and time in the classroom to critically examine and perceive the issues from various lenses and perspectives through multiple integrated modalities (e.g., visual, auditory, ambulatory, cursive, reflective, experiential, dialogic) in an attempt to reveal more of the interdependencies and correspondences that exist within the larger context or story rather than focus on what may be erroneously identified as "the problem." This also meant our students were going to get outside and immerse themselves in the city (see Figure 1).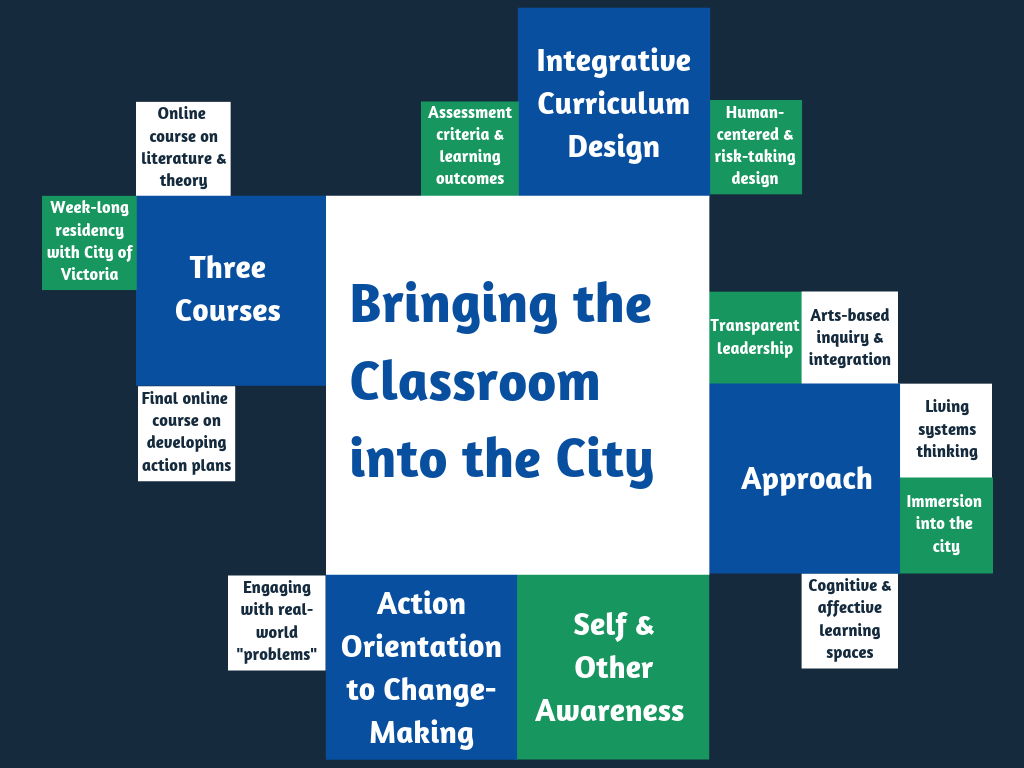 If we were to have described one another before co-teaching for the first time, we would have said that one, as an ecopsychologist and arts- and nature-based educator, is very comfortable with the affective domain and the other with the cognitive domain since, as a social scientist, they have been trained in more traditional methods. In our case, co-teaching meant that we taught together each day, moving back and forth in terms of leading content areas that we each held some expertise in and converging on those that we shared. Each day we laid out who might take the lead on each 90-minute section and remained flexible to allow changes and detours to occur. We gauged this by tracking students' responses and energy and what was happening in the 'field' around us (or atmosphere, if you will, which includes weather and city activities just as much as the group field). To ensure something meaningful would happen, we trusted our collective intuition about where the learning needed to go. Transparent leadership meant we openly checked in with each other several times over the course of each session. We began to discover that each of us had a lot to learn from one another and that co-teaching would be a key learning experience for each of us. It nudged us out of our comfort zones to develop our sub-dominant styles. At first, co-teaching requires an inordinate degree of trust in one another and requires the ability to be able to creatively and respectfully 'bridge' one another's differences, not by dominating, but by building on one another's thinking and delivery. Oftentimes, co-teaching requires transparently co-creating emergent knowledge in front of students who may be unused to and unsettled by the blurred edges found in such interactive and responsive ways of teaching.
Integrative Curriculum Design
We began designing the curriculum (which included defining assessment criteria as well as learning outcomes) by first determining what affective/cognitive/critical knowledge was needed to solve messy wicked social problems and what skills/tools could concurrently be taught and showcased in practice. Working closely with city staff, we identified a number of the city's issues of interest. The cohort then self-organized and selected the issue they were most passionate about solving. Issues such as affordable housing, sustainable transportation, urban design and public space activation, climate leadership, and social enterprise and social procurement were all on the table.
Key cognitive domains focused on applied knowledge; moving from the practicalities of sustainable community development to connection, regeneration, integrated planning, adaptation, reconciliation, and diversity, from local to global processes. If we guided the students through the problems they were facing, we wanted them to apply a myriad of lenses and theories, principles, and practices from a variety of disciplines such as architecture, art, science, nature, ecopsychology, anthropology, and dialogic inquiry. Curriculum content and design included upcycling (designing for cradle-to-cradle circular economies; see McDonough & Braungart, 2013), biomimicry (borrowing genius from nature's designs to innovatively solve human problems; see Benyus, 1997; Harman, 2014), design thinking using makerspace (taking problems into fluid, constructive spaces of innovation, curiosity, risk-taking, and empowerment combining empathy, creativity, and rationality; see Doorley & Witthoft, 2012), bricolage (combining on-hand materials to craft the new; see Kincheloe & Berry, 2004; Wiseman, 2007), and open space technologies (allowing time and space for spontaneous, self-organizing conversations around important issues; see Owen, 2008).
While sustainable community development can be approached theoretically, it is primarily about relationships and interrelationships– with the land, with other human communities, and with our fellow creatures. "No single element in the world is not bonded to, flying away from or catalytic with another element in the world…every ecosystem is an astonishing meeting, this conversation between various dynamics that contribute to the central conversation of life" (Whyte, 2012). A primary motive of 'relatedness' implies that competencies developed by a systems approach that stresses an indissoluble unity of people and place in 'conversations' with one another is necessary for us to handle the pressing challenges facing modern societies. However, "More often than not (in education), emotional or intuitive understandings are marginalized, considered too personal and unruly, or are discounted entirely" (Leighton, 2014, p. 139). Yet, Orr (2004) reminds us that, "There is no way to separate feeling from knowledge. There is no way to separate an object from a subject. There is no good way and no good reason to separate mind or body from its ecological and emotional context," (p. 31) and to think otherwise constitutes "crises of perception" (Macy & Brown, 1998, p. 4). To mitigate this, we firmly rooted more embodied and embedded practices into our design so that the living world and learning had a chance to meet through the daily practice of 'being in place' by walking and writing about the city. Students learned to slow down, deeply listen and observe, notice, and feel their surroundings as they captured their impressions of the place through journaling, sketching, photography, etc. These 'conversations' with the world facilitated an understanding of the depth and sense of this place, beyond anything we could have possibly taught in any classroom.
The first assignment, called The Lay of the Land, had two parts. The first, due prior to the residency, was a short, introduction written from the perspective of the student's sense of their home place that was accompanied by a photograph, drawing, or some other visual representation of the lands they were from. Guided by questions such as, Where is the place you live? What is this place like? What do you love about this place? What is your relationship to it? How has it shaped you or have you shaped it?, students were asked to examine their relationship to their communities to help "place" themselves both geographically and socially and provide a glimpse into their worldviews, values, beliefs, influences, etc. This assignment was intentionally designed to both literally and figuratively help the cohort better understand and appreciate the diverse places each member was 'coming from.' The second part of this assignment (due in the studio at the residency) required students to bring an artifact — something small (e.g., something that could fit into their hands and, of course, their luggage) — that best represented what they loved about where they lived and their relationship to that place (As environmental educators, we were, of course, careful to ask students to avoid any inadvertent destruction of habitat if they were retrieving natural objects.). After each student shared their written introductions and photographs the first morning of class, they proceeded to take their individual artifacts and use bricolage to improvise and create something of a unifying design from these diverse objects around the notion of 'community,' thereby creating something of a collaborative design greater than the sum of its parts. The nature of bricolage is such that the placement of one thing next to another can sometimes create new connections and insights where none existed before; therefore in the making, more, and often unexpected, meaning arises. As the week progressed, and with the accrual of more knowledge and insights, students, in effect, became bricoleurs by revisiting their initial design to continue to shape and rearrange things and add and collage in things they had found to create a kind of creative, mixed media discourse between themselves, the artifacts, and their emergent understandings. Here the metaphor of community took on a life of its own without any further instruction from us.
Continuing with the emphasis of the importance of embeddedness and place, each day, an hour was set aside within the curriculum (scheduled strategically after the lunch break) for students to individually go out and walk and write about the city. The instructions for this assignment, called Terra Incognito, were to traverse this unknown territory, find a place that appealed, and go there every day (in all kinds of weather) to sit and listen, reflect, and write in their journals. Given the complexity of the issues involved in sustainable community development and the need for transformative learning on multiple levels, including personal movement and reflective practice was important for integrating and synthesizing learning. It allowed for new connections that were found at the intersection between the inner and outer worlds they wandered to be formed. Walking the city, sitting in place, slowing down, and deeply listening brought about a more conscious, participatory engagement with the world. Thought was allowed to open from the inside, connecting to the outside in rich, subtle, complicated ways, encouraging sensitivity and awareness, while striking a balance between rational thinking and the deep imagination. This was evidenced in the student journal pages that were in one and a half pages increments that were submitted three times over the course duration. We, humans, are open systems conditioned to relationship and, according to anthropologist and cyberneticist Bateson (1979), are designed as such to receive, interpret, and respond, in patterns of repetition between incoming signals and flow through information and energy and throughput/feedback in an endless spiral of give and take. This type of recursive, reflective practice stimulates a kind of soaking in of information that brings new connections and an enhanced ability to identify the permeability and interrelatedness of the local and global, people and community, species and biomes, urban and rural, and past and future, often creating new and original thought in the process. We encouraged students to consider the widest range of expression for their individual pages – writing, map-making, drawing, poetry, rubbings, photographs, sketches, pasted-in found ephemera, etc. – as they studied the deep meaning of the city in its full grit and glory.
Happily, we found that these 'conversations' helped students enter the sensorial present and awaken to the sounds and silences, structures and patterns, light and atmosphere, and people and energy of the cityscape. This exercise allowed them an opportunity to better attune to the lived experience of what was happening on the ground. What might have started out as a kind of surface reporting or descriptive chronicling of events, soon turned toward the personal with surprisingly deep excavations and, sometimes, revelations. These reflections afforded us a glimpse into what was stirring for individual students so that we could help closely track and kindly encourage their progress toward increased self-awareness and awareness of others throughout the course.
Building upon their residency journey, students created and curated a vivid social media presence (in this case, Pinterest) as a substantive approach to showing their perceptions and approaches to community development. Tapping into the power of visual storytelling, they posted interesting and evocative photographs after their daily encounters with the city along with additional links and videos connecting what they were learning to other innovative research from sustainable-minded cities and places. Pinterest allowed the students the immediacy of uploading and sharing a rich array of resources during the course and to continue doing so long after the course ended. Acting as a kind of 'living library' to chronicle their city experience, it also became an archive of resources to draw from for their final assignment and a way we could assess their individual interest and participation in using multiple forms of media and techniques.
With Studio Time, we used another critical reflective practice to begin each morning. A writing prompt that arose from class discussions or that was crafted as a natural segue into that day's curriculum was offered. In response, students wrote intuitively and freely in their journals for 10 minutes. Not only did this type of journaling act as a way to slough off extraneous and distracting thoughts, but it also cleared the way for students to hear their own voices and allow space for something to write itself through them. Importantly, timed writing 'primes the pump' (Goldberg, 1986) for further creativity and the flow of ideas, inviting what wants to surface to do so. Journal writing comes closest to reproducing how we think and how consciousness evolves (Rainer, 1978) and can be liberating when compared with the tight restrictions placed on so many other forms of writing, particularly academic. As students get to know themselves better through writing, they are more likely to make space for an ongoing, internal relationship that leads them toward the larger implications of their lives and their work (and what is unfolding in both realms) as well as allows them to bear witness to their own changes with a deepened sense of self-awareness. Demonstrations of self-awareness was not only part of the assessment criteria for learning outcomes pertaining to positive human interaction and developing leadership skills, but is also an essential competency when working with others toward shared goals and outcomes in community development as it not only allows us to bring our full selves to the table, it also allows us to bring a more conscious approach to problem-solving and collaboration overall.
As mentioned above, human-centered design thinking (Maguire, 2001; Manzini, 2015; Sanders & Stappers, 2008;), makerspaces (Doorley & Witthoft, 2012), and open space technology (Owen, 2008) were used to help each team cohort develop innovative, socially-responsible approaches to the complex city issues they were investigating. Makerspace, an all-day, design-thinking exercise, also involved city staff participating alongside the students as they moved from developing empathy around their city's challenges to ideation to playing and tinkering to the final creation stage. Limited to using only the materials provided by their instructors (for example, kits including a range of things from cardboard to cotter pins, elastic bands, jumbo straws, doweling, clothespins, muffin cups, and playdoh) and under tight time constraints, teams developed prototypes of their collaborative ideas to address diverse stakeholders' needs and seek new, arts-based perspectives for old problems. In the end, the students made their colorful, resourceful solutions visible through highly innovative art in a final Gallery Walk at the end of the day that was open to city officials and their staff. To further highlight the importance of inter- and transdisciplinary research and knowledge, we held an evening event, called 'The Human Library,' where students 'read' people instead of books. Human libraries were designed in Denmark in the year 2000 (http://humanlibrary.org/) as a positive framework to hold wide-ranging conversations where real people were put on loan to readers. At human libraries, barriers and prejudices are challenged through 20-minute dialogue sessions where difficult questions are anticipated and welcomed. Students 'checked-out' and 'borrowed' a variety of people they might not normally have an opportunity to talk with including the mayor, a social profit representative working for the homeless, a street installation artist, a city planner, a local businessperson, a place-maker, a First Nations man working in provincial government, an architect, a horticulture therapist, an academic, etc.
All of these creative curricular activities, along with in-class lectures, numerous guest lectures, and field trips allowed students to gain the necessary rich experience, skills, and leading-edge practices for integrative planning and informed decision-making as evidenced by the student final panel presentations the last day of the residency. Working from the premise that students construct knowledge on a continuum of creativity from childhood to maturity and are not empty vessels to be filled (Piaget & Inhleder, 1969) by innovative curriculum or enthused teachers, we knew that students choosing a graduate program were also, more often than not, seeking change in their lives in some capacity. Each arrives with rich and diverse experiences and vast stores of a priori knowledge, a willingness to roll up their sleeves and dig into the messiness of the issues, and to work in a kind of radical collaboration with one another in fairly short order. Every morning, to honor the wisdom and enthusiasm in the room, we flipped the classroom to provide each student the opportunity to briefly teach the class something of significance to them, which helped build their confidence. This took the format of five minutes of 'anything goes' and resulted in students teaching us games, offering instruction for hands-on skills, showcasing a past or current work project, playing an important piece of music to them, reading a poem or part of an article of interest, etc. While each offering was unique to that student, repeatedly, the sessions illustrated the need for diverse ways of knowing, seeing, and experiencing the world in order for true collaboration and appreciation to take hold. Of course, we also all learned something new. As the classroom became more tensile and safe over time and as students wrestled with the edges of their own agency and the needs of the community through the issues at hand (perhaps aided, in part, by this type of rehearsing each morning and learning by doing through makerspace and open space), they appeared more fluid in their thinking, more willing to make mistakes and learn through experimentation, and more willing to improvise and even change direction midstream if need be.
Through their encounters with self and others, through writing, moving, sitting, reflecting, making, tinkering, prototyping, and presenting, we noticed the students were being compelled to act on behalf of the city and its inhabitants, were becoming more confident about taking action (and making plans), and, in effect, were actualizing their knowledge in response to the challenges they faced. Their increased ability to track and synthesize a flow of ideas in order to clarify, critically co-create, analyze, and further synthesize and reason was apparent in the culmination of ideas and insights found in their rich, relevant, multimedia draft presentations at the end of the week. Their final research assignment was evaluated by a panel comprised of city planners and academics from the university who critiqued each team's preliminary thinking and 'work-in-progress' to date in preparation for the final course where further refinement of their research would take place online.
In the beginning, we had very differing views about what to integrate and how much. The first author is also a poet and thus wanted to bring in poetry to punctuate teaching points throughout the classes. The second author was somewhat uncomfortable with this but decided, in the interests of collaboration, to flow with this, in her opinion, unusual way of teaching. In the end, it proved to be a very moving experience with the second author closing the final class with one of her favorite poems. The classroom was intended to be an inviting space, so we thoughtfully curated with beautiful fresh flowers, refreshments, food, and plenty of resources such as topical books, magazines, and art materials that could be used anytime. Each morning, the students arrived to a new quotation on the board that was intended to spark further conversation. We considered pacing and timing, planned and unplanned spaces for reflection and dialogue, and checking in, all very important for continued personal care and transformation. Lectures moved from the very personal anecdotal to the more standard knowledge sharing and reiterating. At last, we reached our stride over the last three days where we could easily model an authentic, transparent, and interdisciplinary teaching practice and more integrated, synthetic knowledge sharing. Teaching in this way, moved us from feelings of service to joy.
Lessons Learned
As individuals and part of a co-teaching team, we consciously implemented a 'both-and' approach to designing and delivering our residency, one that invited natural and social science, the urban and the rural, the cognitive and the affective, individual assignments and group work, and rational and imaginative thinking, to embrace the wholeness necessary for human development and maturation (Jung, 1921/1971, 1953/1968). This was a constant reminder for both of us to keep heuristically opening up to one another's viewpoints and continually inviting what was emerging from the class moment to moment rather than stay focused on any fixed idea of set outcomes. Through this shared experience, we have come to understand that leading from the edge means being willing to humbly walk (and meet) the edges of ourselves and be willing to be changed in the process too.
As our students went out of the classroom day after day, we noticed they were becoming incrementally braver. They reported that they began to see the city with new eyes and, as a result, found more compassion for those living on the street. We noticed their language was changing from an objective 'them' toward a more inter-subjective 'we' as they began to see themselves as obligated citizens rather than students simply studying a problem from afar. We also saw the city in a new light as we both walked out each day and began to peer beneath the veneer of this garden-like city at the harder edges of our downtown neighborhood. Several teams brought this to bear in their research when they made recommendations for the designing of public access spaces appropriate for pedestrians, wheelchairs, baby carriages, bicycles, and grocery carts. Not rushing to fix or solve, the students were more interested in widely and sensitively consulting for a more systemic and integrative view of the challenges the city faced. The modalities of paying attention, asking good and difficult questions, listening, reflecting, and building empathy and understanding, that they were experiencing in the class, were being applied directly to their research approach.
"What scholars now say – and what good teachers have always known – is that real learning does not happen until students are brought into relationship with the teacher, with each other and with the subject" (Palmer, 1998, p. xvi), and we would like to add— and with themselves. Our experience convinced us that personal change must come from the inside rather than exclusively from external sources and pressures alone. For this to occur, a whole person perspective of teaching must include the body, mind, heart, and soul with attendance to the student's experience and interests through divergent practices that build on their "capacity for personal strength, self-knowledge, integrity, compassion and cooperation" (Todesco, 2012, p. 115). Effective and responsive teaching requires that we draw from the entire epistemological spectrum of cognitive, aesthetic, emotional, physical, and spiritual intelligence to align meaning and purpose for what is essential to each student (Hart, 2001; O'Sullivan, 2008; Palmer & Zajonc, 2011; Selby, 2002; Sterling, 2001). We also must be "careful to provide a balance of creative, practical, scientific competencies and artistic skills as well as environmental awareness toward the efficacy of that student" (Leighton, 2014, p. 312) to create the changes required within the whole ecology to create an emerging new world.
What we didn't fully anticipate is how much the students would claim they had changed as the result of an integrative approach and how, in turn, they seemed to be self-actualizing with some immediacy in their lives and work. Direct feedback from one student was that he won a significant job competition in the field of community development and claimed this was due to the experience and confidence he accrued from this kind of learning. A handful of students decided to enroll in the graduate interdisciplinary program that will incorporate these nine credits toward a master's degree.
Upon reflection, we believe that to meet 'messy, wicked problems' head on in sustainable community development, we need to meet messy with messy in our curricular design. We opened spaces for divergence, ambiguity, creative conflict, honesty, freedom, and time to explore the issues in depth, from multiple perspectives. This allowed our students to be able to deeply grasp the seriousness of what is at stake when recommending a change in real time. The courage to teach something emergent requires risk-taking with the curriculum (Palmer, 1998), transparent and respectful co-teaching, and an ability to invite art, nature, and innovation every day. We learned that if we were willing to let learning arise and shape itself around a city's difficult issues in ways we could not know until the students had enough time familiarizing themselves with the city and its inhabitants, then something extraordinary would happen. We let go of rigid timetables to accommodate spontaneity, opportunities, and last-minute guests, and we let go of the notion of a finished product at week's end, as this residency was clearly about allowing thinking-in-progress. Our sense was that the students were on a quest (toward their own futures as well trying to find answers and make recommendations to the city), so we had to be flexible and responsive to what was emerging, all the while trusting that overarching certificate learning outcomes would be reached during the third and final course where the polishing and refinement takes place. We had to resist tidying everything up, expecting concrete or finessed presentations on the last day which, in the end, served the student's in positive ways as we placed our trust in them to get from here to there. While the city has its own grittiness, so does teaching in this way. Our takeaway is to be reminded that when we invite humility over hubris, emergence over expectation, and grace over glory, and when we keep the space hospitable, energized, bounded, and open, we can trust intelligence will flourish and transformations will occur. Finally, to know our subject well was clearly not enough. We needed to get to know our students equally as well which meant allowing each one time to teach us what they knew and to give them enough time to think, wander, reflect, make, play, metabolize, and finally actualize their knowledge (as individuals and as a team). This effort was happily reflected in their ongoing participation, journal reflections, and engaging final team presentations.
Self-actualization is change. Sewall (1999) notes that the ecotone is always "teeming with life, with abundance…where "the world is always more" (pp. 135-136), more complex and mysterious, more diverse and uncertain, and indeed, more possible. In creating a curriculum of confluences that faithfully attends to each student's experience and interests, artistically building upon their knowledge and confidence, and helping ready them to respond to the complexities at hand where meaning and purpose can align with action, we found learning accrued at a new, integral, and critical edge. This suggests that with well-curated, embodied, arts- and nature-based experiences and practices (in complement with other traditional forms of study) information can metabolize into deeply held personal understandings and convictions and transdisciplinary knowledge, where students can become agents for a kind of action-oriented change that not only transforms themselves but holds the potential for transforming whole communities and perhaps, even at this teeming edge of possibility, the world.
References
Bateson, G. (1979). Mind and nature: A necessary unity. New York, NY: E.P. Dutton.
Benyus, J. (1997). Biomimicry. Innovation inspired by nature. New York, NY: HarperCollins.
Bloom, B., Hastings, J., & Madaus, G. (1971). Handbook on formative and summative evaluation of student learning. New York, NY: McGraw-Hill.
Brundiers, K., Wiek, A., & Redman, C. (2010). Real‐world learning opportunities in sustainability: From classroom into the real world. International Journal of Sustainability in Higher Education, 11(4), 308-324. https://doi.org/10.1108/14676371011077540
Dale, A. (2001). At the edge: Sustainable in the 21st century. Vancouver: UBC Press.
Dale, A., Foon, R., Herbert, Y., & Newell, R. (2014). Community vitality: From adaptation to transformation. Tatamagouche, N.B.: Fernweh Press.
Doorley, S. & Witthoft, S. (2012). Make space. Hoboken, NJ: John Wiley & Sons.
Goldberg, N. (1986). Writing down the bones. Freeing the writer within. Boston, MA: Shambhala Publications Inc.
Greene, M. (1995). Releasing the imagination. Essays on education, the arts, and social change. San Francisco, CA: Jossey-Bass Inc.
Harman, J. (2014). The shark's paintbrush. Biomimicry and how nature is inspiring innovation. Ashland, OR: White Cloud Press.
Hart, T. (2001). From information to transformation: Education for the evolution of the consciousness. New York, NY: Peter Lang.
Heidegger, M. (1927/1962). Being and time. New York, NY: Harper and Row.
Human Library. (n.d.). Retrieved from https://humanlibrary.org
Jung, C. G. (1921/1971). Psychological types: Collected works of C.G. Jung, Vol. 6. (R.F.C. Hull, Trans.) Bollingen Series XX. Princeton, NJ: Princeton University Press.
Jung, C. G. (1953/1968). Jung, psychology and alchemy. Collected Works of C. G. Jung, Vol. 12. (R.F.C. Hull, Trans.). Bollingen Series XX. Princeton, NJ: Princeton University Press.
Kincheloe, J. & Berry, K. (2004). Rigour and complexity in educational research. Conceptualizing the bricolage. London, ONT: McGraw Hill.
Lazlo, E. (1996). A systems view of the world: A holistic vision for our time. (Advances in systems theory, complexity and the human sciences). New York, NY: Hampton Press.
Leighton, H. (2014). Wild (re)turns: Tracking the epistemological and ecological implications of learning as an initiatory journey toward true vocation and soul. (Doctoral dissertation). University of Victoria, BC. https://dspace.library.uvic.ca:8443/handle/1828/5674
Macy, J. & Brown, M. (1998). Coming back to life. Practices to reconnect our lives, our world.          Gabriola Island, BC: New Society.
Maguire, M. (2001). Methods to support human-centred design. International Journal of Human-Computer Studies, 55(4): 587-634.
Manzini, E. (2015). Design, when everybody designs: An introduction to design for social innovation. Cambridge, MA: MIT Press.,
McDonough, W. & Braungart, M. (2013). The upcycle. Beyond sustainability — designing for abundance. New York, NY: North Point Press.
Mezirov, J. (2009). Learning as transformation: Critical perspectives on a theory in progress. San Francisco, CA: Jossey-Bass.
Moustakas, C. (1990). Heuristic research: Design, methodology and applications. Newbury Park, CA: Sage.
Murga-Menoyo, M. A., Espinosa, A., & Novo, M. (2017), What do we imagine the campuses of tomorrow will be like? Universities' transition toward sustainability in the light of the transition initiatives. Handbook of Theory and Practice of Sustainable Development in Higher Education, 193-214.
Nachmanovitch, S. (1990). Free play. Improvisation in life and art. New York, NY: Jeremy P. Tarcher/Putnam.
O'Sullivan, E. (2008). Finding our way in the great work. Journal of Transformative Education, 6(1), 27-36.
Orr, D. (2004). Earth in mind. On education, environment and the human prospect. Washington, DC: Island Press.
Owen, H. (2008). Open space technology. A user's guide. Third edition. San Francisco, CA: Berrett Koehler Publishers Inc.
Palmer, P. (1998). The courage to teach. Exploring the inner landscape of a teacher's life. San Francisco, CA: Jossey-Bass.
Palmer, P. J., & Zajonc, A. (2011). The heart of higher education: A call to renewal, transforming the academy through collegial conversations. San Francisco, CA: Jossey-Bass.
Paquet, G. (1989). A social learning framework for a wicked problem: The case of energy. Energy Studies Review, 1(1), 53-69.
Piaget, J. & Inhelder, B. (1969). The psychology of the child. New York, NY: Basic Books.
Rainer, T. (1978). The new diary. How to use a journal for self-guidance and expanded creativity. New York, NY: Jeremy P. Tarcher.
Sanders, E., & Stappers, P. J. (2008). Co-creation and the new landscapes of design. CoDesign, 4(1), 5-18. doi: 10.1080/15710880701875068
Selby, D. (2002). The signature of the whole: Radical interconnectedness and its implications for global and environmental education. In E. O'Sullivan, A. Morell, & M. A. O'Connor. (Eds.). Expanding the boundaries of transformative learning. pp. 77-93. New York, NY: Palgrave.
Sewall, L. (1999). Sight and sensibility. The ecopsychology of perception. New York, NY: Jeremy P. Tarcher.
Simsek, A. (2012). Transformational learning. In N. M. Seel (Ed.). Encyclopedia of the sciences of learning. Boston, MA: Springer.
Sipos, Y., Battisti, B., & Grimm, K. (2008). Achieving transformative sustainability learning: Engaging head, hands and heart. International Journal of Sustainability in Higher Education, 9(1), 68-86.
Sterling, S. (2001). Sustainable education: Re-visioning learning and change. Bristol, UK: Green Books.
Sterling, S. (2008, Spring). Sustainable education: Towards a deep learning response to unsustainability. Policy & Practice. A Development Education Review, 6, 63-68.
Sterling, S. (2017). Environmental education: Paradox and proposition. Conference paper (unpublished) presented at World Environmental Education Congress, Vancouver, B.C. (pp. 4-15).
Todesco, T. (2012). Integrative and transformative learning practices: Engaging the whole person in educating of sustainability. (Thesis). University of Victoria: Victoria, B.C.
Whyte, D. (2011). Life at the frontier: The conversational nature of reality. TEDx Puget Sound. Retrieved from https://www.youtube.com/watch?v=5Ss1HuA1hIk
Wiseman, B. (2007). Levis-Strauss, anthropology and aesthetics. Cambridge, MA; Cambridge University Press.